Congratulations, Aishwarik !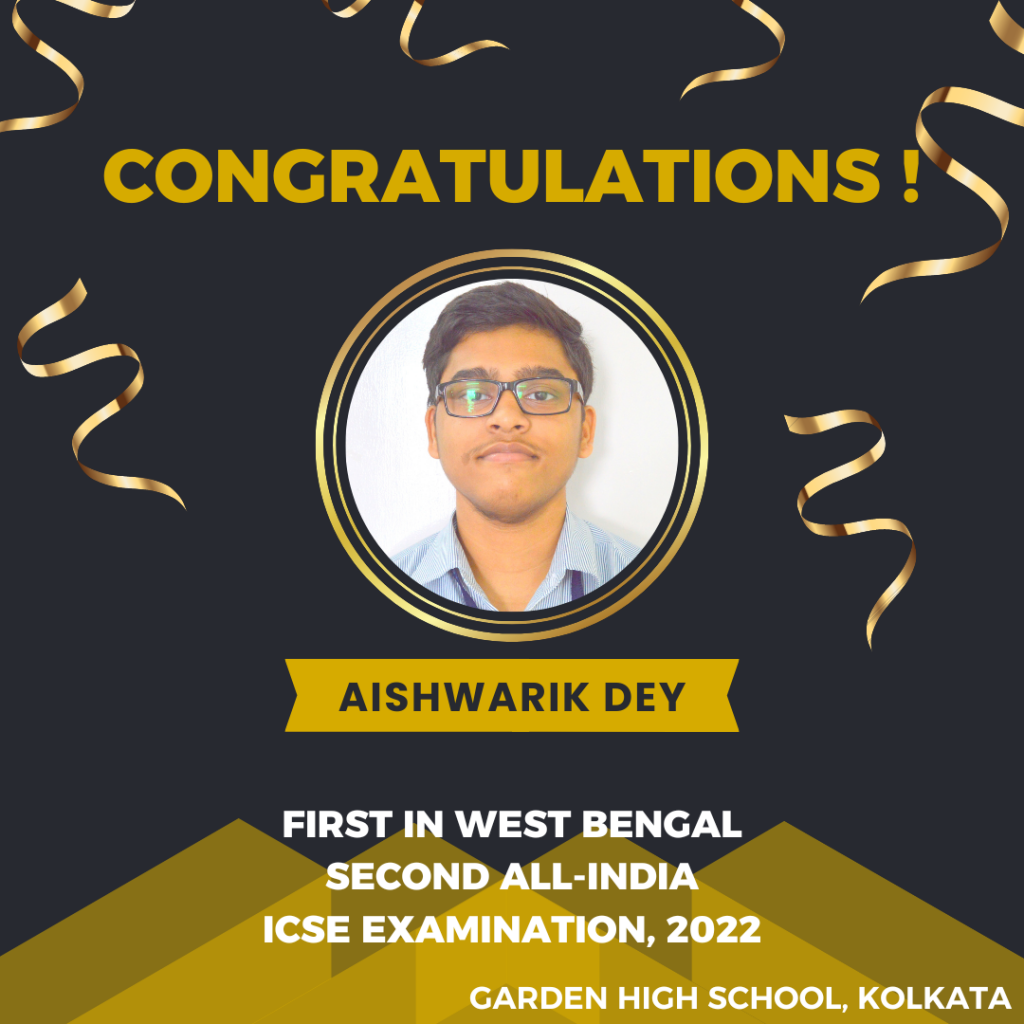 INTERNATIONAL YOGA DAY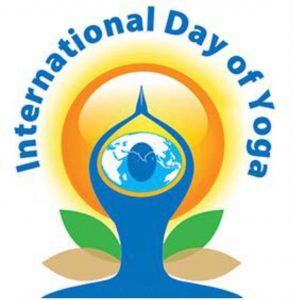 Yoga is a method of fitness that aims at balancing the body and calming the mind thus maintaining all ground health. It keeps us fit both physically and mentally .To commemorate International yoga day 2022, Garden High School IISER Kolkata campus (GHSIKC ) Celebrates the day with its pupils and staff.
Rabindra Jayanti Celebration 2020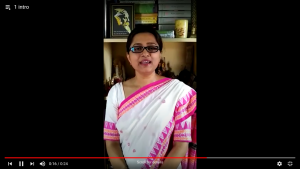 Click here or the image above to view the video from Garden High School – IISER Campus YouTube channel
The unusual circumstances around us could not dampen the spirit of our pupils at Garden High School IISER Kolkata. From their confinement at home they have put together a brief programme to celebrate the 159 th birth anniversary of Kabiguru Rabindranath Tagore. Hope you enjoy it.
Pre-Puja Celebration 2019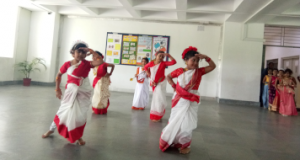 To welcome the festive season in autumn the pupils of Garden High School-IISER Kolkata Campus presented a cultural programme on 27 September 2019. It started with a song 'I want to teach the world to sing', followed by drama 'Jungle Book'. The theme of the play was unity and freedom as found in nature. Then there was a recitation of the Bengali poem 'Sarat' written by Promod Basu. The programme ended with two dance performances- 'Gouri elo dekhe ja lo' and 'Subharambh'. The enthusiastic pupils performed exceptionally well and were applauded by the enterprising audience.
Lecture by Ms Ann Devereux, NASA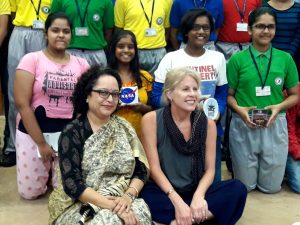 Ms Ann Devereux, Manager of systems Engineering, Integration and Test of Jet Propulsion Laboratory, NASA delivered a lecture titled 'Journey to the Moon and Mars' at the IISER Kolkata Auditorium on 25 September 2019. It was a very enlightening presentation as she explained technical aspects involved in space journeys, with relevant stories and slide shows. One was reminded of a famous Einstein quote- 'If you can't explain it simply, you don't know it well enough'. Ms Devereux actually made 'Rocket Science' look easy and enjoyable, as her presentation was lively, lucid and was peppered with humour.
Pupils of two senior classes attended the lecture, which was a very enriching experience for them. It acquainted them with some intricate, yet interesting facts about journey into space.
Hindi Diwas 2019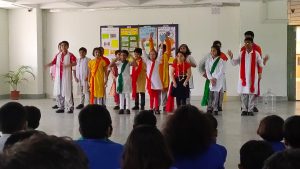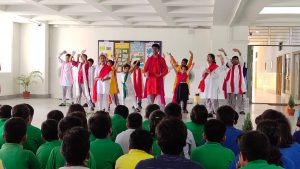 Every year, 14 September is observed as Hindi Diwas to celebrate Hindi as one of the official languages of India. This year, the pupils of Classes III to VIII of Garden High School-IISER Kolkata Campus celebrated Hindi Diwas on 13 September. The programme started with the song 'Hum Sab Bhartiya Hain' followed by a dance performance 'Ye Desh Hein Veer Jawaan-o Ka'. The programme concluded with a street play – 'Jal Bin Jivan' which was dramatized to spread awareness about water crisis and its consequences.
Rabindra Jayanti 2019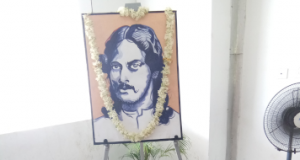 Garden High School – IISER Kolkata Campus celebrated the birth anniversary of Rabindranath Tagore on 8 May 2019. The programme began with a song 'Akash jure shuninu' performed by the school choir. This was followed by a drama 'Bichitro swad' performed by pupils of Classes V and VI. Pupils of Classes III, VI, VII and VIII put up a dance performance next. The programme ended with Rabindra Sangeet performed by teachers of the School.
ADMISSION NOTICE FOR CLASSES NURSERY I – VIII (2019-20)
FOR REGISTERING FOR ADMISSION TO CLASSES

NURSERY I – VIII

FOR THE

ACADEMIC SESSION 2019 – 2020

KINDLY CALL THE SCHOOL OFFICE / VISIT THE SCHOOL WEBSITE.
School will close at 1 p.m. on 17 August 2018
All departments of the School will be closed at 1p.m. today, 17 August 2018 as a mark of respect to the former Prime Minister of India, Sri Atal Bihari Vajpayee.
Parents are advised to pick up their wards accordingly.
Teachers' Science Workshop – December 2017
Garden High School – IISER Kolkata Campus organised a one-day professional development programme for science teachers in collaboration with Royal Society of Chemistry (UK) on Saturday, 2 December 2017.
Royal Society of Chemistry is an organization based in UK with a heritage that spans 175 years of educational service. It runs many education projects on 'Science' across the globe, including India.
The aim of the referred workshop was to give teachers the opportunity to experience 'effective active learning techniques' which may be adopted in classroom situation primarily as 'learners' and then as 'teachers' to explore difficulties commonly faced by pupils in class.
40 teachers from 6 different schools including Garden High School, Kolkata and Garden High International School, Kolkata participated in the programme on the basis of an early registration by 24 November 2017.
The workshop was a day long programme of 7 hours, being divided into three modules interspersed by breaks for tea, lunch and coffee. During the workshop teachers worked together in groups on a variety of problems and discussed their views with the resource person from Royal Society of Chemistry, Dr. Vimala Oak.
By the end of the day, each teacher received study materials and a certificate of participation from the Royal Society of Chemistry.
Science Field Trip – December 2017
A field su
rvey for
collection of statistical data was conducted by Garden High School IISER-Kolkata campus on 1 December 2017. Guided by two mathematics teachers (Mr. Anupam Chakraborty and Mr. Subinoy Das) and one office staff (Mr. Rabin Das), 21 pupils of Class VII were taken to the rural areas of Khorda-Mohanpur (Ward Number 16) near the IISER campus.
Pupils
were di
vided into smaller groups to conduct the survey through a questionnaire related to the style of living of the local community there.
Active participation of pupils during this field work gave them an opportunity to learn how statistical survey is done in real life. It was an enriching and enjoyable activity for the participating pupils.
Field trip in September 2017
As part of the IUCN project, a backyard survey was conducted on 18 September 2017 with 22 pupils of Class VII of Garden High School – IISER Kolkata. The pupils were guided by 4 teachers.
The team set out at 9:00 a.m. for the field trip, which emphasized on observation and identification of the diverse variation of birds, butterflies and plants within the campus along with their geographical location and habitat.
The pupils identified and photographed close to 15 species of birds, butterflies and plants.
It was an immensely enriching out-of-classroom activity for the pupils.  2 research scholars from the IISER Biodiversity laboratory were part of the team as well.
Baithaki Series – October 2017
Satikanta Guha Foundation and MATRA (The Music Academy for Tabla Research by Pt. Anindo Chatterjee) organised a classical music concert at Garden High School Kolkata on Saturday, 07 October 2017, at 5.00 pm.
The concert titled Baithaki Series had performances from eminent sarod player Pt Partho Sarodi accompanied by Pt Anindo Chatterjee and vocal by Nabanita Chowdhury accompanied by Rupak Bhattachariya.
The evening programme started off with table by 4 students of MATRA. The programme was graced by eminent musicians of Indian Classical music including Ustad Rashid Khan and Pt Tejendra Narayan Majumdar among others.
For pictures check out the Gallery at the Satikanta Guha Foundation website.
Poster Painting on 'Swachchh Bharat'
Pupils of Garden High School IISER Kolkata Campus took part in a poster painting session on 'cleanliness' as an inter-House event on 5 September 2017.Teachers-in-charge of the different Houses interacted with the pupils and made them aware of the importance of personal and community hygiene. The session was followed by a poster painting event. Pupils from classes III to VII participated in the activity. Their paintings were later displayed on School boards designated for the different Houses.
Independence Day Celebration 2017
Garden High School, IISER Kolkata Campus celebrated pre-Independence day at School on 14 August 2017 at 2 PM.
The programme began with the song "Vande Mataram" sung by the School Choir. This was followed by a brief speech by Athena Mandal of Class VII who spoke on the importance of Independence Day. After the speech Niv Roy of Class IV recited a Bengali poem "Sarthak Janam" and Abeer Raj of Class IV recited a Hindi poem "Ajadi Ke Saal Hue Kayi". Pupils of Classes IV to VII then performed House-wise drill followed by joint recitation of Bengali poem "Dui Bangla" by Sayantika Das and Sriparna Dutta of Class III.
The School Choir enhanced the spirit of patriotism by singing patriotic songs "Vijayi Vishwa Tiranga Pyara" and "Dhano Dhanne Pushpe Bhara".In the end Mrs. Ratna Biswas, Principal delivered a short speech where she explained the significance of Independence Day to the pupils. The programme ended with a rendition of our national anthem.
For more pictures, please visit the Independence Day 2017 Gallery
Workshop on Environment Education
Garden High School – IISER Kolkata Campus took an initiative to work on climate change, bio-diversity awareness and conservation through small but significant projects with the pupils of Class VII under a programme named "Citizen Science Survey based Programme" initiated by WildRoots India.
This is a part of the "NatureForAll" campaign, which is launched by the IUCN – International Union for Conservation of Nature.
As part of the Sch
ool initiative, a one-day workshop was organized at the School premises on Thursday, 13 July 2017.
Dr. Biswajit De (Founder President, WildRoots India) conducted the workshop with 22 pupils and the guide teachers from the School linked to this project.
It was a rich and enduring experience for the pupils as they participated in different environment related activities and also spoke about their views regarding the importance of bio-diversity.
Rabindra Jayanti 2017
Garden High School – IISER Kolkata celebrated 156th birth anniversary of Rabindranath Tagore on 8 May 2017 as a special assembly event to honour the great poet. The function began by offering flowers to a portrait of the poet followed by a Rabindra Sangeet sung by the School choir. The cultural events following it comprised of elocution, recitation, a medley of poems and songs in the form of a dance drama along with an address on the life of the poet. The function concluded with the national Anthem 'Jana Gana Mana'.
Art Exhibition 2017
Garden High School – IISER Kolkata organized an exhibition "Creativity at Its Best" on Art & Craft work made by pupils of Classes Nursery-I to VII. The exhibition was held on 6 May 2017 and was inaugurated by Ms. Mahua Dasgupta, Secretary of Garden High School (Kolkata) by lighting of lamp. It was followed by a short inaugural programme performed by the pupils of Classes III to VII. The Activity room of the School was the venue and it displayed over 600 items on paintings and other crafts which the pupils prepared during the 2-week art workshop at the end of the last Academic Session in March 2017.
Parents of pupils and faculty members of IISER Kolkata visited the exhibition and highly appreciated the creative skills of the pupils.
Mr. T K Gopalan, CEO Satikanta Guha Foundation and Ms. Ratna Bose, Director, Primary section, GHS (Kolkata) also graced the occasion along with Ms. Mahua Dasgupta.
GHS-IISER KOLKATA IN THE MEDIA
TTIS – 8 May 2017
TTIS – 18 March 2017
Winter Camp – GHS IISER Kolkata campus
TALESPIN  – Workshop on Story telling
GHS-IISER Kolkata organised a 5-day long Winter Camp at the school premises from 2 January 2017 till 6 January 2017. The camp was called Talespin and it focused on the art of story telling. In the camp the students  learnt the structure/ format of a story, designed their characters using Origami and gave voice to their characters by writing dialogues. They used posters to structure their tales and sharpened their vocabulary to better the narratives.
The workshop was a fun-filled and interactive program, comprising of music, videos and collaborative tasks. It focused on their creative skills, writing skills, communicative skills, interpersonal skills, acting skills, enunciation and voice modulation.
On the final day of the workshop, students enacted their stories in front of their parents, teachers and the principal.
GHS IISER Kolkata Admission Notice 2017-18
ICSE and ISC results of GHS Kolkata